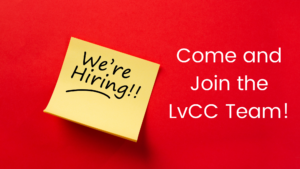 LvCC is looking to hire a Discipleship and Community Life Pastor to be part of our ministry team. If you are interested or know someone who is looking to serve the Lord at a historic church preparing for another 100 years of vibrant ministry, please review the information below.
We encourage any qualified candidate to initiate an application file using the links provided.  To begin the application process, please submit the following materials where indicated.
A brief cover letter introducing yourself, describing your current situation, and why you are applying for this position, and
Your resume showing your academic and ministry history, and qualifications for this position as outlined in the job description. Feel free to include any links (YouTube, etc.) that might help us get to know you better and view examples of your ministry efforts.
Position: Discipleship and Community Life Pastor
Click here Discipleship and Community Life Pastor to download a PDF Job Description
If you would like more information or begin an application file, please click here to chat with us, or submit the above materials.